The 5th Balkan Business Analysis Conference 11-12 October 2019 – Belgrade, Serbia
The 5th Balkan Business Analysis Conference – BBA 2019 will take place from 11 to 12 October 2019 in Belgrade. The IIBA Serbia Chapter would like to welcome more than 200 participants from all over the world who would like to exchange knowledge, experiences and challenges in numerous lectures and workshops on the topic of Real Life Business Analysis.
This is what awaits you:
Current trends and insights from speakers and trainers from the region and abroad, intensive examination of a multitude of new knowledge and skills
Opportunity to participate in interactive workshops and experience new techniques and approaches.
Practical examples will be presented by leading industry practitioners.
Opportunity to exchange ideas, best practices, tools and lessons learned.
Starting from the first Business Analysts 2015 meeting in Belgrade, organized by four regional chapters – IIBA Bulgaria, IIBA Bulgaria, IIBA Bulgaria, IIBA Bulgaria, IIBA Bulgaria and IIBA Slovenia – the Balkan BA Conference has changed from a small one-day event with 80 participants to a rather large two-day event with more than 200 participants from different countries and numerous lectures and workshops.
We look forward to meeting you at BBA 2019.
Contact:  info@serbia.iiba.org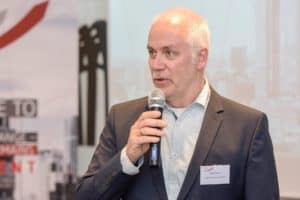 RAINER WENDT, GERMANY
An Authority vs in Authority: Better Having a Sharp Business Analysis Skill Than Being in a Role of a Business Analyst
How valuable and attractive are new skills like "Business Analysis"? Job advertisements often ask for very special roles as "Online Product Manager (m / f / d)" or "Business Developer (m / f / x)". The fact that these roles often overlap with each other is not clear to HR managers or interested parties. Thus, the employees are not aware of suitable vacancies. Rainer Wendt uses a business analysis skills catalog to show how to do this. A rethink of skill orientation in recruiting can open up new perspectives for both recruiters and applicants.
Rainer Wendt is Certified Business Analysis Professional CBP®, Project Management Professional PMP®, Professional in Business Analysis PMI-PBA® and Agile Certified Practitioner PMI-ACP® and holder of several other certificates in Agile and IT. He is President of the German Chapter of the International Institute for Business Analysis and founder of the annual European Business Analysis Day conference in Frankfurt. As Managing Director of masVenta Business GmbH he is actively involved in industry projects as a coach, consultant, and project manager. He has been working as IT Project Manager for Siemens and Amdoc's leading international projects at SAP, BMW, German Bundestag Berlin and Vodafone Germany. Besides learning and teaching he has been engaged between 2009 and 2017 by E. ON Global Commodities SE in Dusseldorf for various Business Analysis and Project Management matters. Recently at Deutsche Telekom and regio IT GmbH in Aachen and Berlin.
Session by Rainer Wendt:
First Day, Friday,
11/10/2019,
15:45